The management software includes a list of Referral types to define how a customer became part of the database. Users may customize the list from any Customer screen Open any EST, RO or INV and go to the Customer screen.
1. Click on the Market button to access referral functions.
2. Click on Referral Setup to display the current list
3. Click on Add to open space to create a new referral entry.

4. Once the new referral text is entered, click OK to save it.

5. The list now includes your new entry; click OK to close the list.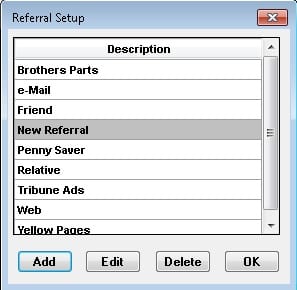 ---
---