Symptom:
When attempting to launch any web integrated button within the Manager program, it loads a blank page. The ondemand5.com site is shown in the title bar. There are no year/make/model drop-downs, no tabs. In the lower left corner, the version 1.1.0.1 appears and in the lower right, the 'Return to Work Order' button is visible.

Versions Affected: Manager/ManagerPlus, Shopkey Service Writer/Management (all versions).
Solutions:
Solution 1: 
The 1.1.0.1 version of the od5browser.exe suppresses all messages. Usually there is a simple pending security prompt from Internet Explorer.
Right-click in the blank white screen of the od5browser and select Properties. Copy and paste the entire URL from that window into Internet Explorer.

Make sure to select the option that will not display the dialog box again.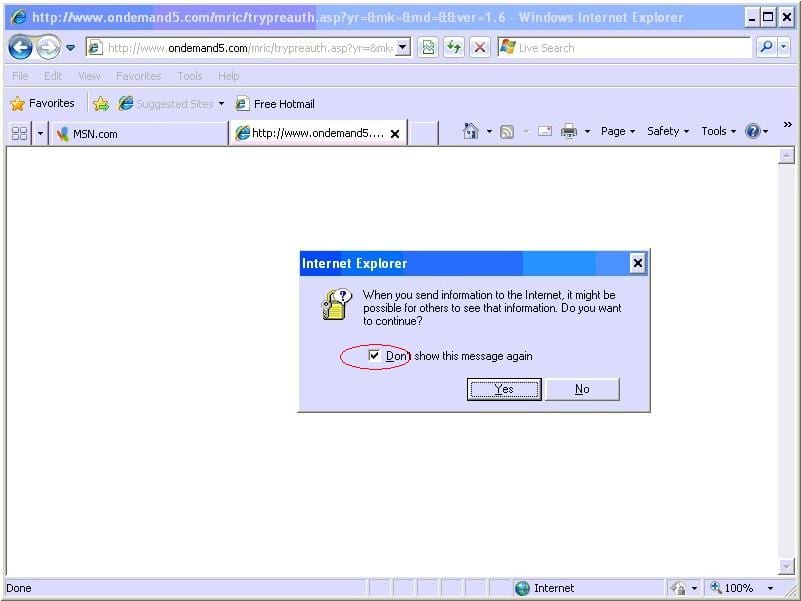 Solution 2:
Make sure the security certificate is valid if working with an older XP or Windows 2000 machine. https://kb.mitchell1.com/articles/id-507/
Solution 3:
In this case, the customer was using the Internet Explorer "Content Advisor" and with this feature enabled, OnDemand5.com would not load. OnDemand5.com was added to the site list to 'always allow' and then the site would load, but still not through Manager.
Since Manager uses the od5browser.exe for web integration, the executable was added to the Content Advisor site list and set to 'always allow' and then OnDemand5.com loaded through Manager successfully.
---
---