Symptom: Customer reports receiving the following error when attempting to run a Parts Ordering – Price Check using First Call Online:
No Internet connection, or remote server failed to respond.
Cause: The most common cause for this failure is due to having an incorrect date/time or incorrect regional language setting.
Solution: Sync the computer's clock with the internet's time. Configure the computer's regional language settings for English US (see: https://kb.mitchell1.com/articles/id-25/).
Step1:
Right-Click the computer's date and time and click Adjust date/time.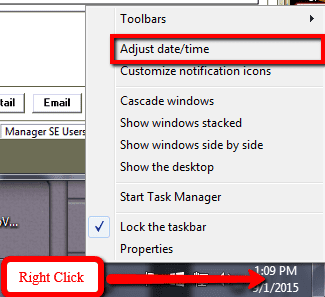 Step2:
Select the Internet Time tab and click Change settings…
Step3:
In the Internet Time Settings window, click Update now.
Note: The time update may fail even after attempting to update multiple times. You may need to choose a different time server until the time setting updates successfully as depicted below: